During the town hall meeting with Prime Minister Narendra Modi Modi, in the year 2015, Facebook CEO Mark Zuckerberg revealed that when his company was going through a "tough patch", then many people advised him he should sell the company to one of the interested buyers. But Steve Jobs Apple co-founder

advised him to visit a temple in India, where he also experienced life-changing spiritual reflection when he visited in the 1970s. The temple was

Neem Karoli Baba Temple

. Steve Jobs is said to have got the vision for creating Apple after he visited the

neem Karoli baba ashram

in Nainital. Steve Jobs with one of his friends from Reeds college, Daniel Kotke, visited India in the year 1974. He went to India to meet Neem Karoli Baba; however, he could not meet Baba who had died ib 1973 before his arrival.
Neem Karoli Baba Temple
is situated in the state of Uttarakhand in India at the Nainital district. (The neem Karoli baba ashram or Baba Neem Karoli considered a reincarnation of Lord Hanuman).
Mark Zuckerberg said, "Steve Jobs advised me that in order to reconnect with what I believed as the mission of the company, I should visit this temple that he had gone to in India, early on in his growth of thinking about what he wanted Apple and his visualization of the future to be, the month-long trip reinforced for me the significance of what we were doing". The Facebook founder had arrived here with just a book in his hand and he was thought to stay here for one day but he spent two days.
Mark Zuckerberg further added, "So I went and I traveled for almost a month, and seeing people, seeing how people connected and having the chance to feel how much better the world can be if everyone has a strong ability to unite reinforced for me the significance of what we were doing and that is something I've always remembered over the last 10 years as we've built Facebook".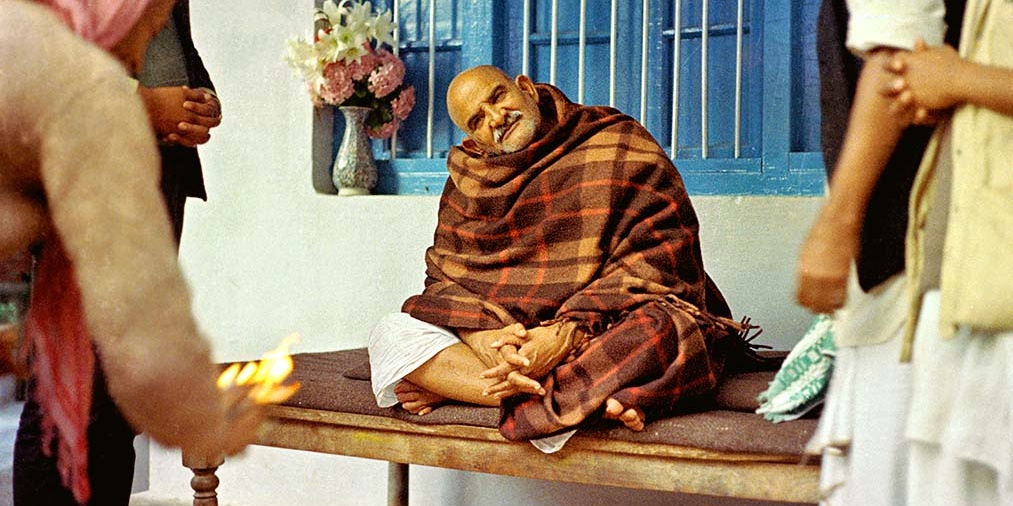 Some years ago, Vinod Joshi, the secretary of the trust of neem Karoli baba ashram, got a call from Larry Brilliant former director of Google's philanthropic arm Google.org and an American physician. Larry said "some Mark would be coming to the ashram for a day" recalls the short, bubbly man with blinking eyes, who has spent his life in the service of his holy guru Neeb Karori Baba at the ashram. Vinod Joshi doesn't remember precisely when because he had no idea who Mark Zuckerberg was. Facebook was so far to become a daily habit of about a billion and a half people all around the world. But he does remember that Mark Zuckerberg flew down to Pantnagar, about 65 km from Nainital, and then drove to the ashram of Neem Karoli, who died in 1973 but continues to enchant numerous high profile Americans.
Julia Roberts, a Hollywood actress is also said to be influenced by Neem Karoli Baba. At present, a lot of foreigners visit the Ashram. Spiritual leaders Ram Dass, Ma Jaya, musicians Jai Uttal and Krishna Das, scholar and writer Yvette Rosser, humanitarian Larry Brilliant and Daniel Goleman are among his devotees.
# Kainchi Dham Fair, Nainital
Kainchi Dham Mela is held every year at a short distance away from the popular hill station in India, Nainital. Thronged by millions from all across the world, Kainchi Dham Mela (fair), is an indication of the faith on Neem Karoli Baba.
When: 15 June every year

Where: Kainchi Dham, Nainital to Almora/Ranikhet National

Highway, Uttarakhand, India

Duration: 1 Day
On June 15, 1964, a spirituality of Lord Hanuman was established in the ashram and it was marked as a Consecration Day. A fair started to take place on June 15 commemorating the blessed event. This fair which is now thronged by millions of devotees all around the world is called Kainchi Mela or Kainchi Dham Mela.
# Highlight of the Kainchi Fair:
From all across the world, millions of devotees arrive at Kainchi Dham to become the part of this fair on June 15 every year. Prasad in the form of "puwa" and "aaloo bhaji" is served to everyone in packets. It is a belief that despite the large and growing number of devotees thronging the Ashram, there has never been a shortage of food or Prashad. It is reckoned Baba Neem Karoli himself looks after all the arrangements in fair.

# How to reach Kainchi Dham?
Kainchi Dham is approx. 318 km from Delhi via Kathgodam -

Bhimtal

- Bhowali

Kainchi Dham is at a distance of 9 Km from Bhowali.

Kainchi Dham is at a distance of 18 Km from Nainital.

Kainchi Dham nearest railway station:

Kathgodam

Kainchi Dham nearest Airport:

Pantnagar
We hope that this article fills you with all the essential information that is needed to motivate you to plan a trip to Neem Karoli Baba Ashram.