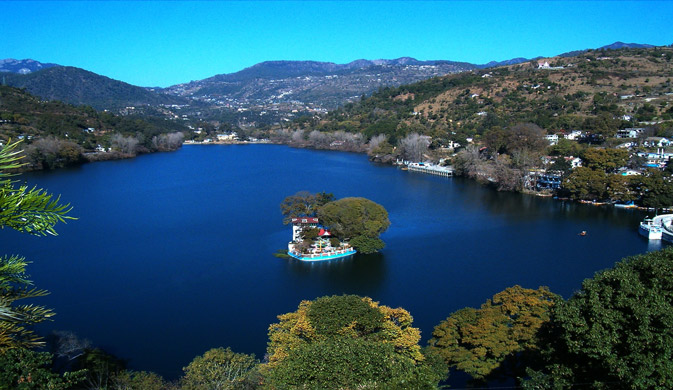 Bird eye view of Bhimtal in Video
Bhimtal, India
is a famous and small hill station in Nainital district of Uttarakhand. Due to its peaceful surroundings, Bhimtal attracts thousands of tourists each year. It is located at height of 1,371 m above sea level amongst the Kumaon hills. Bhimtal and Nainital distance is about 23 kms. Bhimtal city is a jewel embellishing the crown of Uttarakhand.
Bhimtal derived its name from Bhima who is one of the legendary personalities in the Indian epic of Mahabharta, and it is said the lake is created by him in ancient times which is now the popular Bhimtal attraction in the town. Bhima visit this place during the banishment period of Pandavas. The Bhimeshwar temple was constructed by Baz Bahadur (1638-78AD) in the 17th century who was a king of Chand dynasty and Kumaon.
Bhimeshwar Temple, Bhimtal
This place came under the rule of Britishers after the Anglo-Nepalese war. (1814-16). It is also believed that Bhimtal may have been the part of popular ancient silk route.
The main tourist attraction in Bhimtal Uttarakhand is Bhimtal lake. This lake has a small island at the centre which is famous for aquarium where you can see different species of fishes. Near lake you can also visit ancient Bhimeshwar temple that is rich in architecture. Near the temple there is a Victorian Dam also. In this dam you can hear the sound of rushing water. Moreover, as compare to Nainital, Bhimtal is less crowded and is totally pollution free.
Victoria Dam, Bhimtal
Bhimtal: Best time to visit
Basically Bhimtal climate is cold but here we are giving you travelling tips to Bhimtal in all the three main seasons.
* Summer: You can calm your senses in the beautiful summer season in Bhimtal. It is the best time to visit here i.e from the month of March till 15 June. The temperature during summer season in Bhimtal may vary from 1o degree Celsius to 30 degree Celsius.
* Monsoon: In the monsoon it is advised to not to visit Bhimtal due to bad road conditions because of landslides as rainfall is the ruler of the town during rainy season. Rain starts here from mid June to mid September. Hence, before visiting Bhimtal in rainy season it is better to check the weather forecast for an unbeatable experience.
* Winter: After summers, winters season is the best time to spend your holidays in Bhimtal. In sunny weather you can enjoy an eye catching view of bhimtal lake and hills. During morning and evening the temperate here goes down but during day time you can enjoy this cool season sitting near the lake. Bhimtal air quality will surely attracts you and force you to visit here again and again.
Winter Line, Bhimtal
Things to do in Bhimtal:
Bhimtal being a tourist place offers various things do in and enjoy your trip. From adventure activities to find peace, this beautiful hill station offers you all.
Bhimtal Lake:
You can enjoy boating in mesmerizing lake of Bhimtal. You can choose paddle boats available here at reasonable prices. There are paddle boats available in shape of ducks in various colours. In Lake, you will also find beautiful ducks and you can feed them bread also.
Bhimtal Lake
Ducks in Bhimtal Lake
Enjoying kayaking:
In category of adventure activities, you can enjoy ride in kayaking. There is a space for two in kayaking and lake can be seen from very near and it feels that you are sailing directly on the water.
Visit to Aquarium:
There is a small aquarium situated in the middle of a lake in small island. Different species of fishes can be seen here. You can visit there by boat from boat stand.
Bhimtal Aquarium
Enjoy in Zorbing ball:
A new attraction for travelers in Bhimtal lake is Zorbing ball. You can enjoy and feel to be upon the lake by going inside the zorbing ball. Children enjoy very much in zorbing balls.
Zorbing ball
Take a ride in hot air balloon (Available only in summers):
You can visit Bhimtal in summer season to enjoy the ride in hot air balloon. So, now to enjoy the ride at hot air balloon you don't have to travel in some foreign countries. Visit Bhimtal in summers and enjoy going upwards in sky in air balloon.
Bhimtal Camping:
Bhimtal is an ideal place for camping. There are various camping sites where you can enjoy and feel yourself close to the nature.
Thrilling adventure sport-Paragliding:
Bhimtal is also a delightful destination for those who love adventure thrilling sports. Paragliding options are available in Bhimtal in various spots where you can fly in the sky and feel like a free bird.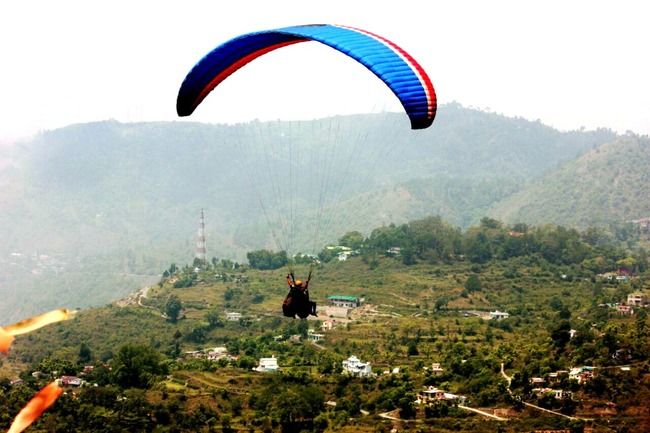 Trekking in Bhimtal:
There are various trekking trails in Bhimtal, as it is a hill station so you can trek to some popular places. You can do trekking from bhimtal lake to Sayyed Baba Mazar, from bhimtal lake to Karkotak Temple and many more.
Karkotak Temple, Bhimtal:
Karkotak hill
Karkotak temple or peak is located in Bhimtal and is one of the highest peaks of Bhimtal. You can reach there by covering a trekking trail of about 6 kms which started from the lake. The trail is not so easy, as there is a very narrow path and you have to be physically fit also to cover this trek. There are many people who visit to this famous and beautiful peak of mountain. This is one of the most popular
Bhimtal adventure
.
Trekking Trail to Karkotak
There is a temple of Naag Devta in Karkotak and every year on the occasion of Naag Panchmi a fair is organized there. From this place you can see a 360 degree view of Bhimtal Lake and popular Naukuchiatal Lake also.
Bird Eye View of Bhimtal Lake from Karkotak hill
But one should visit there during the time of summers or winters. You should avoid trekking there in the monsoon season as the path becomes slippery due to rain. When you reached at the top, you will very amazing and all your tiredness will disappear. You will be mesmerized by seeing the amazing views and fell the air touching your face and soul. Moreover, this place is perfect for clicking snaps with wonderful view of Bhimtal lake and magnificent hills.
Naag Devta Temple, Karkotak, Bhimtal
How to reach Bhimtal?
Bhimtal is very well connected by air, rail and roads which make your trip hassle free.
By Air:
The nearest Airport to Bhimtal is Pantnagar which is in Udham Singh Nagar district of Uttarakhand. It is about at a distance of 58 kms. From here you can get cab or bus to haldwani and then travel to Bhimtal.
Find flights to Pantnagar Airport:
By Train:
Kathgodam is the nearest Railway station to Bhimtal, it is about at a distance of 25 kms. This railway station is well connected to various cities of India like New Delhi, Dehradun, Jaipur, Howrah and many more.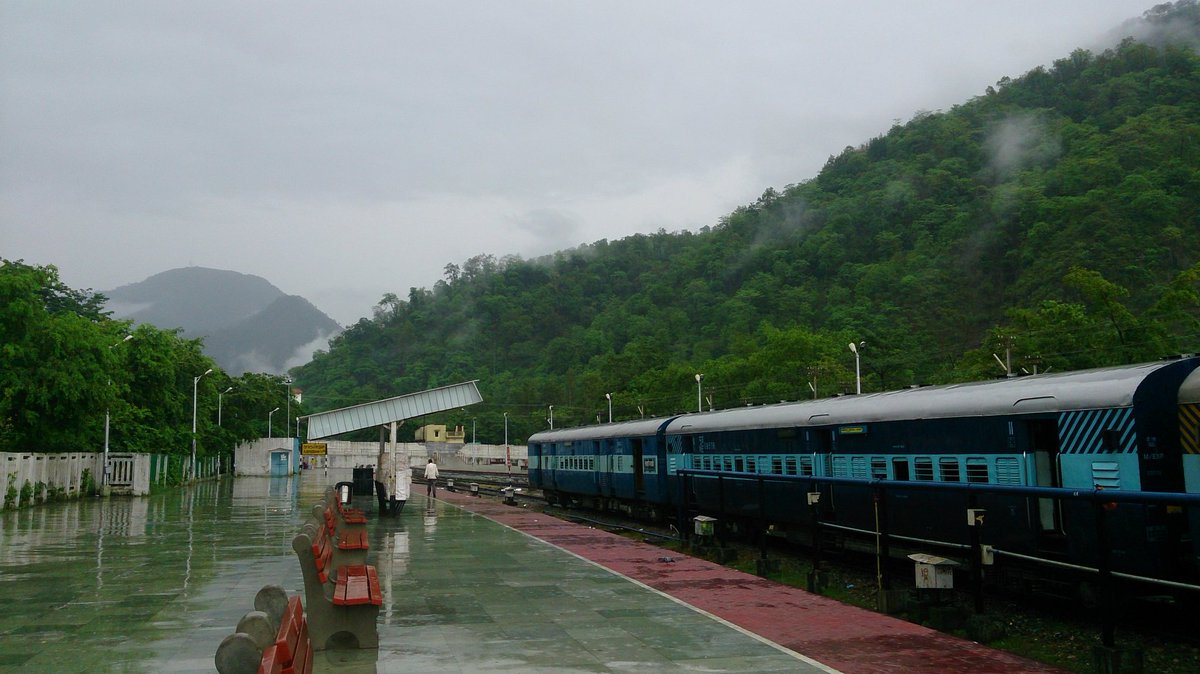 Kathgodam Railway Station
By Road:
You can reach to Bhimtal easily by roads also. The roads to Bhimtal are well linked to all the major towns and cities such as Delhi, Dehradun, Lucknow and others. Bhimtal to Delhi distance is approx 347 kms via NH9. Bhimtal to Dehradun distance is approx 294 kms via NH34. You can also travel to Nainital from Delhi or Dehradun as Bhimtal to nainital is only 22 kms. As there is no particular Bhimtal bus stand, so it is better to take a cab to reach bhimtal for going to your hotel or resort without any hassles.
Where to stay in Bhimtal?
There are various options available to stay in Bhimtal. You will find many hotels, resorts as well home stay in Bhimtal. You can choose location of your staying place as per your choice. Like you want lake view, valley view and many more. Bhimtal hotels are available at reasonable prices, you can book online also. We offer you option of booking Bhimtal best hotels by OYO. You can mail us at:
[email protected]
for more information about Bhimtal hotels booking by OYO.
Hence, Bhimtal is an ideal place to travel solo, with family or friends and for honeymoon. Easily connected to major cities, Bhimtal has something for each individual to delight in.
Blog Post By: NEETA SHARMA