Being one of the biggest educational and economic centres of South India, Chennai is a popular place to visit. This is the capital of Tamil Nadu and is known as the 'Culture Capital' of South India. Located on the Coromandel Coast of the Bay of Bengal,
Chennai weather
is hot and humid all the three major seasons- winters, summers and monsoons. From nature to architecture and from old to contemporary and, Chennai possesses an inspiring variety of places to impress and entertain tourists. So, have you ever thought of exploring Chennai? If yes, then read the article to know about 8
Best Places To Visit In Chennai.
When one is in Chennai, the largest beach in India is right around the corner. No doubt, that is one of the famous and best beaches of Chennai. With an area from Fort St. George to Besant Nagar, this beach is lined with up palm trees. A magnificent view when sky and water meet at both ends is very mesmerizing. On the southern end of Marina, there is an old lighthouse stands along with various other structures such as a swimming pool and a park nearby. You can also enjoy beach games and kite flying activities here.
·

Best time to visit: November to March
In-depth detail of gopuram, unique architectural style and the magnificent height of around 37 meters of this temple make it the best places to visit in Chennai. The Dravidian style of temple construction is most famous in South India and this temple is the best example of the same. The temple is the home of deities Karpagambal and Shiva, holds a festival in March and April while attracting thousands of devotees in its premises.
·

Timings: 5:30 am - 12 pm, 5-9 pm

·

Entry Fee: None

·

Distance: 17 km from Chennai Airport.
Mahabalipuram is also known as Mamallapuram and is one of the best places to visit in Chennai. It is an ancient place which is known for rock-cut built-up architecture with widespread carvings that will just enthrall anyone. Here, you can observe and explore the fine sculptures of the different monuments. It is a famous tourist places near Chennai within 100 kms. In addition to this, the drive from Chennai to Mahabalipuram along the seashore is quite an experience also.
·

Entry Fee: 10 INR for Indian and 340 for foreigner

·

Timings: 6 am - 6 pm

·

Distance: 60 km from Chennai
This is situated in Nagapattinam and
stands off the Elliot's Beach. This grand monument gives a completely different aura to the whole zone. The perfect white structure of the church having tall towers stands overlooking the Bay of Bengal looks fantastic. One can also attend the mass prayer conducted both in English as well as Tamil. Annai Vailankanni's holy place has an attraction unparalleled amongst the surroundings.
5. Guindy National Park and Snake Park
The city life of Chennai has a special edition of an assortment of species and is the only national park located in the middle of a city. Guindy has many animals, birds, and reptiles as its residents. Travelers can treat their eyes with the presence of spotted deer, blackbucks, tortoise, jackals and many more. You can also visit Snake Park that is home to pythons and cobras while the birds found here quail, flycatcher, partridge, and buzzards. This place is surely one of the best places to visit near Chennai that make anyone forget regular city life.
·

Entry Fee: 20 INR for adults and 5 INR for children

·

Timings: 9 am to 5:30 pm

·

Distance: 12 km from Chennai Airport

·

Location:

Rangeguindy, Chennai
6. Mylapore
The exotic destination with the culture of Tamil Nadu Mylapore is in the neighborhood of Chennai. Known for Kapaleeswarar temple, tree-lined avenues, and Ramakrishnan Math as well-known attractions, this zone has a combination of thousands of temples, mosques, and churches. Historically, this place is known as Vedapuri and is famous for shopping also. Here, in the month of December, various sabhas are organized to the age-old culture of playing music. Moreover, Mylapore food has its own fragrance and smell of its scrumptious cuisines.
·

Entry Fee: No entry fee

·

Timings: 6:00 A.M - 1:00 P.M and 4:00 P.M - 8:00 P.M
Madras War Memorial is one of the famous places to visit in Chennai and is a war memorial is a tribute to the martyrs during the 2nd world war.

It is a stunning structure carved out of white marble with inscriptions detailing the names of people who gave up their lives. You can take a walk in this fantastic place as well as its well-maintained gardens. Here, you will see the Cross-of the Sacrifice and Stone of Remembrance. To see special homages paid by the forces you can visit here on days like Vijay Diwas and Army Day.
·

Distance: 5 kilometers from Chennai Airport.

·

Timings: Every day 8:00 am-6:00 pm

·

Entry Fee: No entry fee.
Nettukuppam is all about an age-old rusty bridge with its head pointing in the sea. At this bridge, one can sit with their legs hanging down and the feeling of self-placement in high waves could be felt. If you are a photography enthusiast, then this is like a double treat where you can click some memorable pictures. It is also counted amongst the most famous beaches in Chennai which is visited by a large number of people all around the year.
·

Distance: 24 km from Chennai

·

Location: Northernmost tip of Chennai

·

Entry Fee: No entry fee
# What are the best places you can visit near Chennai?
·

Ooty: 547 km from Chennai

·

Kodaikanal: 518 km from Chennai

·

Kanchipuram: 72 km from Chennai

·

Munnar: 575 km from Chennai

·

Pondicherry: 161 km from Chennai

·

Yelagiri: 227 km from Chennai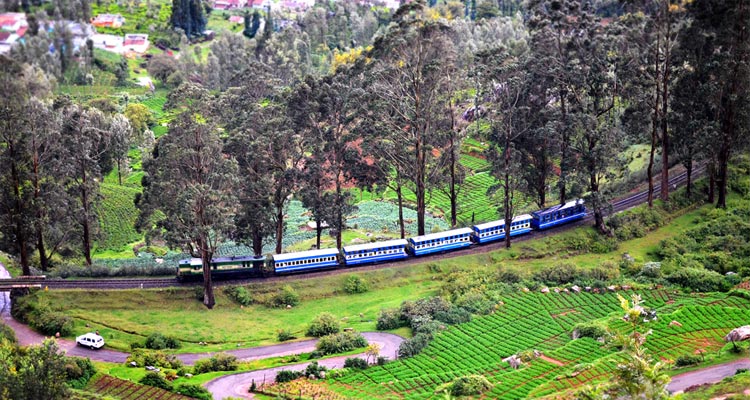 Ooty
# What are the amazing things you can do in Chennai?
·

Take a Walkthrough Thalankuppam Pier

·

Revel around the Marina Beach

·

Water sports in Muttukadu

·

Visit Mahabalipuram

·

Enjoy Nature Photography at Ubbalamadugu Falls
Ubbalamadugu Falls
# What are the best adventure sports you can do in Chennai?
·

Beach Bonfire and Camping in Chennai

·

Camping and Surfing at Kovalam, Chennai

·

Monsoon Meesapulimala Trek and Camping

·

Kodaikanal to Kumbakarai Trek From Chennai

·

Kurinjini Top Station Trek From Chennai
Monsoon Meesapulimala Trek
# What is prominent in Chennai to eat?
Idlis, dosas, vadas, uttapams, fish cuisines, hot filter coffee, sundal, Murukku Sandwich and many more.
South India's gateway city, Chennai, is frequently counted among the best cities to visit in India as well as the world for food and culture among other things. There are various romantic places in Chennai, temples, beaches and a lot more. Hence, if you are planning to visit there, then we hope that this post regarding 8 Best Places To Visit In Chennai will surely help you in deciding which places to visit.
Guest Blog Post by: Shivam Sharma
(For Guest Blog Post mail us at: info.funattrip.com )

Find Hotels at Chennai: