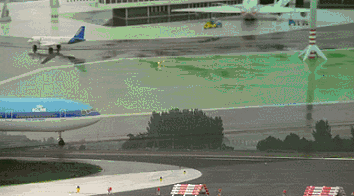 When you travel to any new destination then Airports are often the first place you arrive. This place is an important part of travelling and is s point of departure, arrival, separation

and transitional spaces.

Airports are also some of the stunning examples of industrial design and just looking at them we can reduce all the stress passing through their doors. Hence, here we are giving you most beautiful Airports all around the world.
#Wellington International Airport, New Zealand
Designed by: Studio Pacific Architecture and Warren and Mahoney
Opened: 1959
Wellington International Airport in

New Zealand

is well known all over the world for its natural landmarks and oldest legends. Here the Rock is a huge, uneven structure which appears to grow out of the ground.

Inside of this Airport, the use of wood and the technique space is divided makes a good atmosphere and high windows depart focused pools of light on the ground such as the reflections on the surface of water. So, when you visit to New Zealand do have a close look of this Airport.
#Adolfo Suárez Madrid–Barajas Airport, Madrid, Spain
Designed by: Antonio Lamela and Richard Rogers
Opened: 2006 (Terminal 4)
This airport is in

Spain

and well known for its amazing design and top most excellent services it offers to visitors. Basically, this Airport has been has naturally undergone a sequence of renovations and expansion. But its 4th

terminal is very wonderfully designed using corrugated bamboo and has metal skylit roof.
#Dubai International Airport, UAE
Opened: 1960
Dubai

International Airport is the 3rd busiest airport in the world by passenger traffic and is in the middle of the Dubai City to attract the passengers. There are three terminals and are beautiful designed and catches the attention of the visitors. Moreover, the infrastructure of this Airport makes itself a superb place to be.
#Beijing Capital International Airport, China
Designed by: NACO, Foster + Partners, and ARUP
Opened: 2008 (Terminal 3)
The Terminal 3 of Beijing Capital International Airport was constructed with a purpose for welcoming the athletes of the 2008 Summer Olympics. The design of this Airport is mainly influenced by the traditional Chinese culture. The terminal is about 2 miles long and gets huge amount of natural light by a mesh of skylights that tint yellow, white and red as you pass to the forecourt.
#Kansai International Airport,

Japan
Opened: 1994
Kansai International Airport was built on an artificial island in Osaka Bay and its Terminal 1 is the longest in the world. The material used in construction of this Airport is of most excellent quality for ensuring the resistance to the natural disasters such as Tsunami, Earthquakes, Typhoons and many more. In addition to this, this beautiful Airport is protected from the elements by a huge sea wall and is served by a graceful suspension bridge which is connects the Airport to the mainland.
Therefore, these are some of the most beautiful Airports of the world. Apart from these, the list is long and mainly includes the names of Shenzhen Bao'an International Airport Shenzhen China, Chhatrapati Shivaji International Airport

Mumbai

India, Daocheng Yading Airport Tibet, Marrakesh Menara Airport Morrocco, King Abdulaziz International Airport, Jeddah Saudi Arabia, Hong Kong International Airport and Incheon International Airport Seoul South Korea.