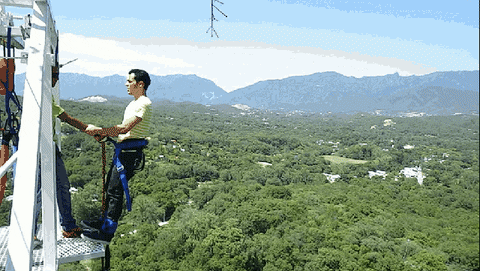 Bungee jumping
(also spelled as Bungy) is mainly a movement that involves jumping from a structure which is place at high of the peak while attached to a large elastic cord.

New Zealand bungee jumping

is famous all over the world and for many visitors bungee jumping in this country has

about become a ritual of passage. Hence, here we are giving you a list of top 7

New Zealand bungee jumping

places where you must visit and enjoy

Bungee-jumping.
1. Taupo New Zealand bungee jumping
The highest Water Touch Bungy Jump in New Zealand is located at the 154 feet above the Waikato River. This is just 5 minutes from the Taupo Township. Taupo Bungy has operating since which encourage more than 350,000 visitors from around the world for ticking 'bungy jumping' off their bucket list. Furthermore, there is a chance for taking a part in tandem falls here and the cliff top stage is also right for sway style falls right eight across the Waikato gorge.
Address: 202 Spa Rd, Taupo 3330, New Zealand
Nevis Bungy is the mother of all Bungy Jumps at New Zealand with 8.5 seconds of freefall from 134 metre drop. The Nevis Bungy here is accurately what you would anticipate from any tourist attraction in New Zealand as it is terrifying. Therefore, if you want to do the most daring bungy jumping then Nevis is for you and is located between the rocky hills on the bank of the Nevis River.
Address: 25 Shotover St Crn of Shotover and, Camp St, Queenstown 9300, New Zealand
Bungee jumping here starts in the year 1988 and is the first commercial bungy jump in world. This 43 metre Bungy Jump is the most famous Bungy site which attracts the thousands of thrill-seekers each year. Here you can select amid water-touching bungy, classic single-man bungy and even tandem bungy for persons who want to share in the excitement.
Address: State Highway 6, Gibbston Valley, Queenstown 9384, New Zealand
Ledge Bungy is 400 metres above Queenstown and gives options of particular harness which allows you to vary your jump style and also select to twist, spin, flip, jump or run. The Ledge bungy is amongst the most flexible adventure attractions in Queenstown and gives an opportunity to jump at night!
Address: Brecon St, Queenstown 9300, New Zealand
If uou are searching for a bungy jumping with a little difference then Shotover Canyon Swing is perfect. It is above the 100 meters on a Shotover River. Here, you can select from various methods to make the fall as well as swing which rates from 1 to 5 on a scale. The fall and swing across the canyon takes place very rapidly but when you hanging above the river you have a view of beautiful river and it doesn't jolts the body at all.
Address: 35 Shotover St, Queenstown 9300, New Zealand
6. Auckland Bridge Climb and Bungy
Auckland is home to the first Harbor Bridge Bungy Jump operated in the world. It is also Only Ocean Touch Bungy in all over the World. This bungy jump gives you an opportunity for plunging into the ocean from a height of 40 meters. Apart from this, it is the best method for catching up the panoramic views of the Waitemata Harbor which is the icon of the city.
Address: 105 Curran St, Westhaven, Auckland 1010, New Zealand
Standing at the 43 meters above scenic farmland, you can enjoy bungy jumping at Agroventure Adventure.

By doing Bungy Jumping here you can overlook the Lake Rotorua and Ngongotaha Stream. Tandem and Single Jumps are available at the Rotorua Bungy and

for the true adventure experience you must try Bungy Jumping here.
Address: 1335 Paradise Valley Road, Ngongotaha, Rotorua 3040, New Zealand