Auli covered under a blanket of

snow

almost year around so you should grab your snow boots now and ready to visit this beautiful place. This place is a famous ski destination in all over the world. It is located in Chamoli district of Uttarakhand, India in the Himalayan mountains. It is basically a meadow and is situated at height of 8,200 ft (2,500 metres) - 10,010 ft (3,050 metres) above sea level. From this wonderful place you can have an eye catching of beautiful Himalayan peaks. Auli is surrounded by oak and coniferous forests. There are slopes in this place which are intended both for professional skiers as well as beginners. This snow place is well known due to Auli ski resort which comes under the taking of Garhwal Mandal Vikas Nigam Limited - GMVNL (a state government agency).
You can also search for Things to do at TripAdvisor:
Besides, you can also choose Himachal Tour Packages if you are interested to enjoy snowfall in Himachal Pradesh.
From past hundred years, Auli was occupied by semi nomadic tribals which are known as Bhotiyas. Bhotiyas are of Mongolian origin and are locally names as Thatauli. Bhotiyas do an affluent trade with Tibet carrying goods on long haired yaks. The great Guru Adi Shankaracharya visited in the 8th century A.D to Auli and constructed a temple known as Shankaracharya Tapasthali at Joshimath which is still in existence. In some past years, Auli has become a training place for soldiers of Indo-Tibetan Border Police Force. After the formation of new state, Uttarakhand (Before year 2000 it was a part of Uttar Pradesh state, India) Auli gained recognition as the most popular tourist destination of Uttarakhand.
For an unforgettable experience in Auli, here we are giving you a list of things to do in Auli:
You can head over to Auli for skiing and forget about skiing in Swiss Alps. In Auli, there are slopes covered from snow and amazing landscapes which make Auli as India's Ski-Hotspot. Here, is an excellent world-class ski resort with immaculate facilities. From here, you can get all the essential accessories required for skiing.
The slopes of Auli cater to beginner skiers and experienced skiing buffs also. You will come across an abundance of prospects of practice and learn under skilled guides.
*Best time for skiing: November to March (Auli weather in winters is very cold, so be prepare to experience the shivering cold in this place)
*Estimated Rate: Cost of accommodation in ski lodges and rental of skiing equipment can cost about 6000 INR - 22000 INR.
You can reach to Auli from Joshimath by Ropeway. Joshimath to Auli Gorson ropeway is the highest and longest ropeway of Asia after Gulmerg in Kashmir. It covers an approximate distance of 4km and has two cable cars and 10 towers. This ropeway takes you up by 1110 meters from where you can see the most magnificent views of the Himalayan range. In this you can choose two options either cable cars which is closed room type and cable chair car which is open so that you fell more close to the nature. These both are equipped with a remote breaking and storm warning system.
Approximate Price: Till 2018 Price for cable car was 750 INR and for the chair lift is around 300 INR. But latest price in 2019 are 1000 INR for cable car and 500 INR for chair lift.
3. Visit to Auli Artificial Lake
Auli artificial lake is the prime location in Auli and is one of the highest man-made lake in the world. Set at an astonishing height with the Great Himalayas in the surroundings built to provide for snow when the snowfall by the season was insufficient for skiing purposes. This is the best place to spend time with your loved ones and watch a mesmerizing view of sunset from the lake. It is located near Clifftop Club.
4. Nanda Devi National Park
Nanda Devi is the second highest peak in India and there is a Nanda Devi National Park where you can discover an inspiring array of flora and fauna and biodiversity. Blessed with plentiful greenery and eye-catching views,
UNESCO has awarded this wonderful Nanda Devi National Park the title of a world heritage site.
Nanda Devi peak towers to an altitude of 7,817m and the view of it is overwhelming.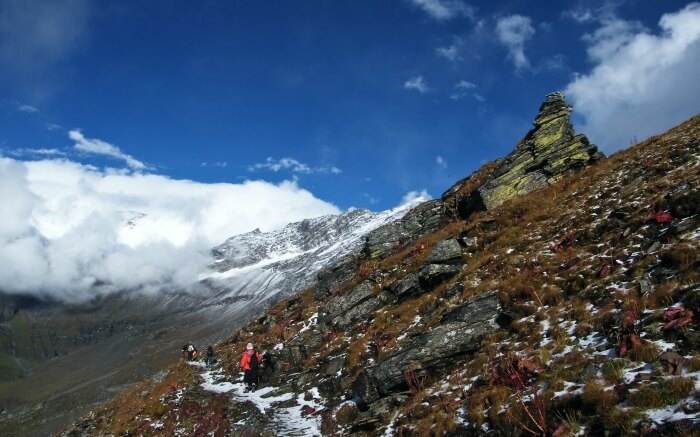 Joshimath is located in Chamoli district and is a must-visit tourist destination at the Auli hill station in summer and winters. Joshimath India offers you wide range of opportunities such as trekking, mountain climbing and serves as the base or starting point for the well-known Valley of Flowers Trek. Moreover, it is also a base for the worshippers going to

Badrinath

and HemKund Sahib.
In addition to this, some more places to visit in Auli are Kwani Bugyal, Auli Gorson Trek, Trishul Peak,
Chenab Lake, Gurso Bugyal, Chattrakund and Vishnuprayag.
How to reach Auli?
By Air:
For those who love travel by air can take a flight to Dehradun, Jolly Grant Airport which is the nearest airport to Auli. It is situated at a distance of 181 kilometers which can be trvalled in 6 hours 15 minutes approx via road.
By Train:
The nearest railway station to Auli is Rishikesh railway station and Haridwar also. From there you can take bus or hire taxi to reach to Auli.
By Road:
Auli is well-connected to the nearby cities in Uttarakhand, and from Rishikesh it is about 196 kilometers which can be easily covered.
# Auli Uttarakhand from Delhi
is about
381 Kms – 9 Hours 35 Minutes Approx.
# Auli Uttarakhand from Dehradun
is about 152 Kms – 5 Hours 15 Minutes Approx.
* Find Flights to Dehradun:
# Auli Uttarakhand from Rishikesh
is about 202 Kms – 6 Hours 40 Minutes Approx.
Hence, here is a short summary about Auli, Uttarakhand:
# Location: Chamoli District, Uttarakhand
# Best For: Skiing, Trekking, Camping, and Nature Walks
# Auli temperature
(Average Max temperature) In Summer: 20-degree Celsius
# Auli temperature (
Average Minimum temperature) In Summer: 2-degree Celsius
# Best Time to Visit Auli Uttarakhand
: Throughout the year
# Summer Months: Mid of March to June
# Nearest Railway Station:

Rishikesh

and Haridwar _ 273 kms
# Nearest Airport: Jolly Grant Airport in

Dehradun

_ 181 kms

Blog Post By: