Going on a trip can be awesome! The individual going on it may speculate about what to do, and if he or she is going to be secure or not. Saying goodbye to your near and dear ones is never easy. Safe travel quotes and wishes can help a person to motivate during his or her journey. You can also tell them how much they mean to you and how happy you are that they are going on this voyage, to lessen any fears that they may have. Hence, here we are giving you 20 Safe travel quotes as well as wishes so that you can send them to your loved ones and assure them of a safe trip or journey.
1. May your journey be eye-opening! May you have new and profound experiences, and may you arrive and depart, in a safe manner!
2. Life isn't easy. All your life you have to strive to make yourself better. It's a full-time commitment. To be your best, you have to work your hardest.
3. The plane will not crash land, The journey will not end in sorrow, But it will end in undiluted joy. Have a safe flight.
4. Time always heals bad vibes and it also teaches us to learn that we should set aside the past and focus on the good things that await us. Have a nice journey!
5. This journey is a once-in-a-lifetime experience. I wish you all the very best for your travels and hope you come back safe and sound. Have a safe trip back home!
6. Traveling is less about selfies, and more about memories. Have a safe trip.
7. Don't get so distracted by the finish line that you forget to enjoy the journey. Bon voyage.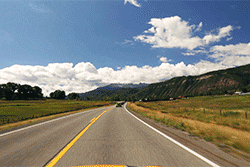 8. Even though I'm a little jealous of you, how could I be mad at my best friend for taking a once-in-a-lifetime trip. I hope it's awesome and that you come back safe and sound.
9. Life isn't meant to be lived caged within walls and mindsets. The only way to break free from the shackles of monotony is to travel. Bon voyage.
10. Each successful step in life means there is a successful future ahead of us. No matter how the goings are tough, always remember that it takes the tough to keep on Going.
11. Your best won't only come from this journey, Your best will come, every blessed day you live. But let's start it from this journey. Wishing you all the best as you travel.
12. Now it's time to make your Instagram game shine — can't wait to follow you on your journeys around the globe.
13. You are someone who I respect, for your strength of character! May the journey that you are going on be unassailable! May it have the quality of safety that you deserve to have!
14. Man cannot discover new oceans unless he has the courage to lose sight of the shore. – Andre Gide
15. Every complete thought brings a successful plan and every perfect plan births great action. All these puts together bring outstanding Success. I wish this meets your Journey in life.
16. Nothing is ever called Welcome back without a Journey. If you desire to get results, you work it out, rather than hoping and wishing. Hope you understand this my friend.
17. A ship in the harbor is safe, but that is not what ships are built for.
18. As long as you have an open mind, able body, and a benevolent heart, you will be safe everywhere.
19. There is always enough light at the end of the tunnel, as long as you strife to not end your Journey inside the tunnel. I wish you have a safe journey.
20. So many things to meet on the way when we travel, Some are loads of goodies while some are bad. I wave the bad ones for you and wish you the goodies. Have a safe journey.