Dehradun is the capital city of the Indian state of Uttarakhand and is also regarded as the "City of Love". This beautiful city is situated at the foothills of the Himalayas and is a preferred place to visit in Uttarakhand. It also provides a gateway to the popular hill station Mussoorie and places like Haridwar and

Rishikesh

are also near to Dehradun. So if you are visiting to this beautiful city for a short duration like two days then you must visit some famous places in Dehradun. There are many places to watch the sun go down with your partner, to chill out with your family as well as adventure stops for trying exciting activities with friends. Hence, here we are giving you a list of some popular places that you must visit in Dehradun in a two day Trip!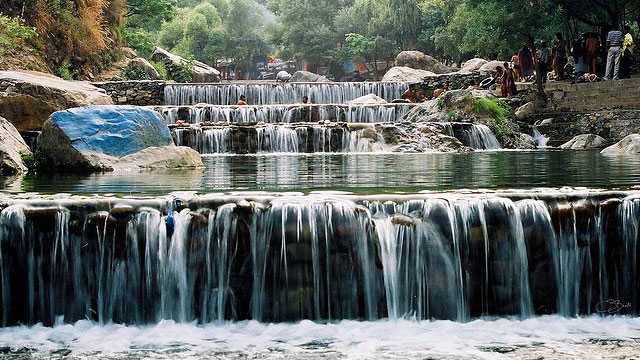 To start with first day, you can visit to Sahastradhara. The literal meaning of Sahastradhara is "thousand fold spring" and is very popular among the tourists who visit to Dehradun. It is located about 11 kilometers form Dehradun and is the best place for attaining peace in its charming aura. Well known for its serene vista, Sahastradhara water contains sulphur which has therapeutic value. This beautiful place mainly comprised of caves, attractive waterfalls as well as steppe farming lands. You can bath here and it is an ideal place to visit with your family and friends for enjoying. You can enter here free of cost and it will take about 3 hours to explore the place. Here you will find a Drona Ghufa (cave) which mainly attracts travelers who have an enthusiastic curiosity in the mythological aspect of this place. Additionally, you can have the top view of Sahastradhara by enjoying the ropeway ride upto up in the hill. From there you can have a fantastic view of the Sahastradhara valley and Badli River. The cost of Ropeway ride is around 150 INR per person. Hence, it is also a popular picnic spot and a relaxing escape from the bustle city of Dehradun.
In the same day after Sahastradhara, you can go to Robber's Cave. In local area it is known as Gucchupani and is a river running all the way through a cave-like natural formation. This place is named as "Robber's Cave" because it was supposed to be used by the robbers for hiding throughout the British Raj. Robber's Cave is approximately 8km from Dehradun and 600 M elongated cave. This cave has been divided into two parts and the centre of this cave mainly has a fort type structure, which is now broken. When you will walk little further into the cave you will see an amazing waterfall which is 10 meters long. Travelers feel amazing when they dip their feet in the ice-cold water of the cave and then walk in it. But you should not forget to take extra set of clothes which you will need there; because it is obvious when you will go through water and enjoy in waterfall your clothes will get wet. You can change clothes in the bathroom outside the cave and also attain the locker facility. Moreover, the entry to Gucchupani is free of cost and is considered as an ideal picnic spot where you can spend about 3-4 hours in your two day trip to Dehradun.
3. FRI (Forest Research Institute)
On 2nd day, you should start your day visiting the FRI (Forest Research Institute). Forest Research Institute is spread over 4.5 square kilometers and was established in the year 1906 as the British Imperial Forestry Service. This place is much more than a university and is a nice place for a family outing in Dehradun. It was developed by the British and till then now stays one of the most astonishing structures constructed in the midst of provincial times. This institute has led to the development of scientific forestry not only in India but the whole Indian Subcontinent. There are main 6 museums which are Timber Museum, Pathology Museum, Entomology Museum, Silviculture Museum, Social Forestry Museum and Non-Wood Forest Products Museum. FRI is also a perfect place for photographers as the wonderful building of the FRI is surrounded by abundant greenery. This place has been also seen in various bollywood films, TV commercials and music videos. Some of these well-known productions are: Student of the Year, Paan Singh Tomar, Rehna Hai Tere Dil Mein, Dilli Khabar, Krishna cottage, Dear Daddy Kamra No. 404 and many more. Furthermore, the ticket is priced at INR 15 per person and there is a nominal parking fee as well. It is open on all days of the week (accept the gazetted holidays) from 9:00 AM to 5:30 PM.
4. Clock Tower/ Paltan Market
After visiting FRI, on 2nd day a must visit place in Dehradun is Clock Tower/ Paltan Market. It is the centre of the city and is visited by each and every traveler who comes to Dehradun. We can say that this place is the "heart of the city". Near Clock Tower (Ghanta Ghar) there is a famous Paltan Market where you can do shopping for every stuff you want. Many people visit this market just to see it and experience the crowd in market which is very loud in the weekends. In this market you should lighten your pockets a little, as visit to Dehradun is incomplete without Shopping. Here you will find everything right from gift items, to clothes to footwear and lot more. don't forget to savour the famous and delicious chaat in this market. Clcok Tower is an important landmark in the city and near to it you can also visit to Connaught Place which is ideal for shopping. Hence, in your two day trip to Dehradun you should not forget to visit Paltan Market and Clock Tower which is the most recognizable landmarks in the city of Dehradun.
***

Jhanda Mela (Jhanda Fair)
Jhanda Mela is one of the most popular festivals in Dehradun and is celebrated every year after 5 days of

Holi

Festival. If you are going to visit Dehradun now a days then you can also enjoy this famous fair as this lasts about a month. As this fais attracts thousands of devotees from all over the India to seek the blessing from The Almighty. It is being organized on the birthday of Shri Guru Ram Rai Ji who came to Dehradun in the year 1699 and built a famous Gurudwara known as Guru Ram Rai Darbar. He hosted a flag in the premises of Gurudwara and since then only the followers of Shri Guru Ram Rai Ji unfurl a flag in the Gurudwara each year for honouring his memory. You can enjoy the swing rides in the fair as well as do shopping also at minimal prices.
Find flights to Dehradun: