In India when commercialization began various holiday homes and royal forts were converted into resorts and hotels. As the time passed and there was development in terms of luxury these hotels gained fame and step by step became some of the best haunts for lavishness and history seekers. Hence, here we are giving you a list of 8 best heritage hotels in India that will take you back on an enchanting trip into the past.
1. Taj Lake Palace, Udaipur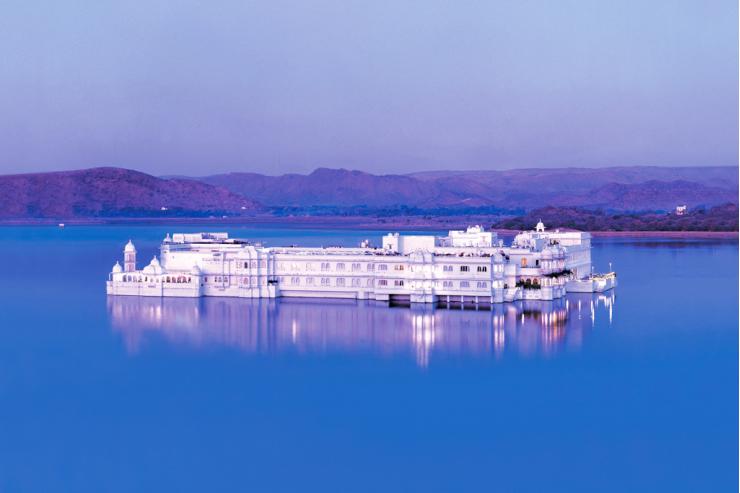 Taj Lake Palace, Udaipur seems like a canvas painted by an artist in which there is beautiful white building and blue painted lake. It is located in Lake Pichola and is well known all over the world for its intricate exterior and interiors. There are total 66 gracefully designed rooms and features spaces such as Mehwar Terrace and Mewar Mahal. Moreover, this heritage hotel is a best combination of modern amenities and envelops the guests in a sweep of luxury, comfort as well as royalty.
Book Taj Lake Palace, Udaipur:
2. Rambagh Palace, Jaipur
Rajasthan is full of world famous heritage hotels; the second on list is Rambhag Palace which is located in Jaipur. Once it was the residence of of king of Jaipur but now it is owned by Taj Group. There are total 79 exquisitely designed rooms and is an architectural masterpiece. Rambagh Palace was awarded the best hotel in all over the world by Conde Nast Traveller in the year 2009.
Book Rambagh Palace, Jaipur:
3. The Oberoi Grand, Kolkata
A well-designed British Era building, The Oberoi Grand boasts of all the modern amenities as well as state of art infrastructure like the extravagant rooms, mouth-watering cuisines, events spa and parties of all types. In this hotel there various types of rooms named as Deluxe Suites, Deluxe Rooms, Premiere Room, Classic Suite, Premiere Rooms with Balcony, Luxury Suite and Luxury Room. Located in the center of Kolkata, this hotel was the winner of Top Hotels in India prize given by Zagat Survey in 2005.
Book The Oberoi Grand, Kolkata:
4. Taj Mahal Palace and Tower, Mumbai
Taj Mahal Palace has proved to be the epitome of Indian hospitality and served many dignitaries from all over the world. With 560 rooms and 44 suites, it is one of the most recognized hotels in the world. It was incepted in the year 1903, and since then it hosted some of the great personalities of the world such as Sir Richard Attenborough, Prince Charles, Margaret Thatcher, George Bernard Shaw, Barack Obama and many more.
Book Taj Mahal Palace and Tower, Mumbai:
5. The Imperial Hotel, New Delhi
One of the most distinguished landmark hotels in the heart of national capital of India, The Imperial Hotel ranked as the Best Hotel in Delhi by "Travel + Leisure" World's Best Awards 2014. This hotel has been designed in the colonial style hand there are total 235 rooms as well as 43 suits. Furthermore, this hotel has served elite guests over 80 years now and is worthy of accolade.
Book The Imperial Hotel, New Delhi:
Samode Palace is about 40 km from Jaipur, Rajasthan and is truly an imagination of tourist's finesse and enjoyment brought into real life. There are total 43 rooms, which are divided into 4 Royal Suites, 20 Deluxe Rooms and 19 Deluxe Suites. The rooms are equipped with the modern amenities as well as very beautifully decorated in proper Rajasthani style. Therefore, you will definitely have a treat of a lifetime by paying a visit to Samode Palace.
7. Brunton Boatyard, Kochi (Cochin)
The Brunton Boatyard in Kochi is a visitor's delight and is located in the same site where once existed a Victorian shipbuilding yard. It is constructed as stylish colonial building and offers 26 elegant rooms. Alongwith enjoying a comfort stay, guests also enjoy various types of cuisines such as Portuguese, Arabic, British Raj and others. Apart from this, it is the best hotel for those, who worth history as well as look for spending time amidst calmness.
Book Brunton Boatyard, Kochi (Cochin):
8. Fortune the Savoy, Mussoorie
Constructed in the year 1902, Fortune The Savoy is a Gothic style and well known hotel in Mussoorie, Uttarakhand state of India. It was build by an Irish Barrister and have total 50 rooms which are further divided into Fortune Exclusive Rooms, Savoy Chambers and Fortune Suites. Apart from warm generosity, the scenic location makes it one of the most favorite hotels in the hill station. Moreover, every room has Britishfeel to it as they are attractively decorated with antiques.
Book Fortune the Savoy, Mussoorie: