The wonderful Batu Caves are counted amongst the top tourist attractions in
Malaysia
. Batu Caves is basically a limestone hill that has a sequence of caves. It gets its name from the Sungai Batu means Stone River which flows past the hill. It is one of the most famous Hindu shrines which is outside India and is dedicated to Lord Murugan. This beautiful place is crowded with people particularly during Thaipusam festival.
Office Number: +603 2287 9422
Batu Caves is situated in the Gombak District and just 13 kilometers north of Kuala Lumpur.
By Air:
Kuala Lumpur International Airport (KUL) is the nearest main airport from the caves. It is coonected by flights from cities in Southeast Asia as well as rest of the world.
Find flights from your destination to Kuala Lumpur International Airport: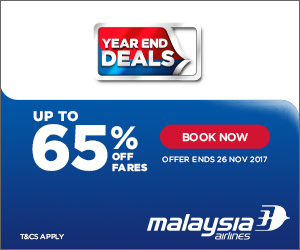 By Train:
Batu Caves Komuter station is easily reachable from KL Sentral via KTM Komuter train.
By Road:
You can also arrive here by the Bus U6 from Titiwangsa. You can also hire taxi to reach Batu Caves but it can bit costly as compare to train and bus.
# History of Batu Caves at a glance:
The sandstone forming Batu Caves is said to be approximately 400 million years old. Some of the cave entry points were used as shelters by the native Temuan people (a tribe of Orang Asli). Earlier than this, the steps up to the Batu Caves were made of wood. But then they were soon reinstated by 272 concrete ones. Amongst all the cave temples which make up the spot, the most well-known and the major of them all is the Cathedral Cave. It houses some Hindu shrines under its 100-meter domed ceiling.
Batu Caves was endorsed as a place of worship by K. Thamboosamy Pillai who was a trader from India. He was stimulated by the 'vel'-shaped entry of the main cave and was inspired to offer a temple to Lord Murugan inside the caves. Since the year 1892, the Thaipusam festival in the Tamil month of Thai has been celebrated here and it falls in late January or early February.
Batu Caves during Thaipusam Festival
The statue of Lord Murugan stands proudly at 42.7 meters at exterior of Batu Caves. It is made of 250 tonnes of steel bar, 1550 cubic meters of concrete and 300 liters of gold paint and. The Batu Caves is about 100m above the ground and temple complex mainly consists of 3 caves and a few smaller ones. The main one is referred as Temple Cave or Cathedral Cave and to reach there you have to climb a vertical flight of 272 steps.
At the bottom of the hill are 2 more cave temples, Art Gallery Cave and Museum Cave, and both of these are full of Hindu painting as well as statues. There is also a Ramayana Cave which portrays the story of Rama in a narrative manner along the uneven walls of the cave.
On the half way up the flight of stairs is the entry to the Dark Cave. This is more of an adventure cave with educational as well as scientific interest.
# Facts about Batu Caves:
* Sri Mahamariamman Temple is the oldest functioning Hindu temple and is also counted amongst the richest in Malaysia.
* The 42.7 meters high golden statue of Lord Murugan is the tallest in all over the world.
* With over 160 climbing routes on the limestone hills expanding up to 150 meters the area is admired for rock climbing in Malaysia.
There are shops near the entrance and some vegetarian restaurants where you can get a delicious Indian curry of four veggie dishes, rice and poppadums which are served on a banana leaf with a fresh coconut juice which costs around 10 RM. You can also try Nasi lemak, Char Kuey Teow and Bak-kut-the and which famous traditional delicacies.
* While the entry to most temples is free but remember that each cave has a diverse admission price.
* The Malaysian Nature Society organizes educational trips to the Dark Cave on a regular basis.
* Since, it is a religious site so you should dress modestly.
* An audio tour is also available to visitors.
* Spelunking and Abseiling trips can be planned with local * adventure companies.
Visiting Batu Caves is not only about sweaty steps and mesmerizing views. Once inside you will find admired Hindu shrines beyond India. Batu Caves is also famous for its many macaques (monkeys) who will annoy you for food. Hence, a visit to Batu Caves will be an unforgettable experience for everyone. You will surely enchanted by the wonders of the place.
Open Daily 7am to 8pm (may vary with weather conditions)
# Tips:
Reach early to avoid heat as well as crowds.
# Nearby Attractions:
Petronas Twin Towers, Aquaria KLCC, Merdeka Square, Kuala Lumpur Bird Park, Suria KLCC etc.
For a good choice of hotels near Batu Caves with discount prices, look at the following: